JUAL Fast Boats to the Gili Islands | EKA JAYA, Semaya One
| | | |
| --- | --- | --- |
| Posted on | : | 04-01-2018 01:07 |
| Dilihat | : | 987 kali |
| Berat | : | 1 gram |
| Last Sundul | : | 8 hours ago |
Penjelasan Produk
Fast Boats to the Gili Islands
Most of the fast boats operating are small high speed craft that seat from 30 to 200 passengers. The standard of the crews training, the general service and the safety equipment are of a very mixed standard and some of the services may be well below the normal expectations of many foreigners. Gotravela does not hold any responsibility for the level of service, quality of boats or travel arrangements offered by the boat companies that sell their tickets on our website. We have simply selected the most popular boats and made sure that all routes are covered. For the highest quality fast boat and ferry services in the region please use www.gotravelaindonesia.com instead.





Bali to the Gili Islands
Since the first fast boat started operating from Bali to the Gili Islands in 2006 there has been an explosion of fast boat companies starting up and there are now boats departing daily from a variety of places in Bali. Most boats depart from Padang Bai and offer a free hotel transfer service from most areas in South west Bali, Ubud, and areas close to Padang Bai. Other boats depart from Serangan harbour in South West Bali and Amed in north east. All of the fast boats stop in Gili trawangan then on the way to Lombok and some of them also go to Gili Air.


Our best offer below same price for Domestic or Foreign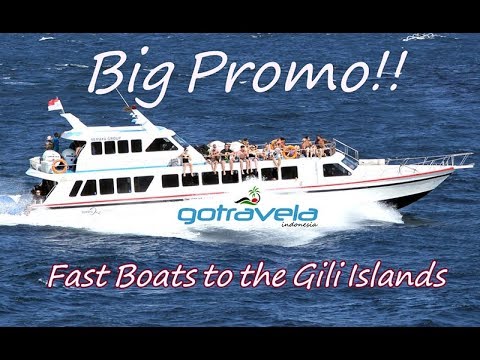 WAHANA GILI OCEAN (Recommend)
One way: IDR. 199.000
Return: IDR. 390.000

EKA JAYA FAST BOAT (Recommend)
One way: IDR. 280.000
Return: IDR. 560.000

Semaya One (Recommend)
One way: IDR. 230.000
Return: IDR. 399.000

Ganggari (Recommend)
One way: IDR. 230.000
Return: IDR. 399.000

For More info >> Fast Boats to the Gili Islands

GOTRAVELA INDONESIA HOLIDAY
Jl. Tukad Pacoran IV / 9a Denpasar - Bali - Indonesia
google search: "Gotravela"
More info drop your mail to: gotravela.id@gmail.com
Office: +62361 4457739
Call/SMS/WhatsApp +6282144448095 / 081999565666
[size="5"]www.gotravelaindonesia.com
Follow Insta @gotravelaindonesia
FBPage : gotravelaIndonesiaHoliday
Twitter : @gotravela
Youtube Channel : Gotravela Indonesia Holiday






Go..go..travela